BioShip is a powerful free and open source Wordpress Starter Theme Framework that aims to combine the best features of a number of great existing themes and frameworks into a highly flexible and integrated whole - a fast-loading and responsive mobile-friendly theme fully loaded with in-built features and supports. 🙂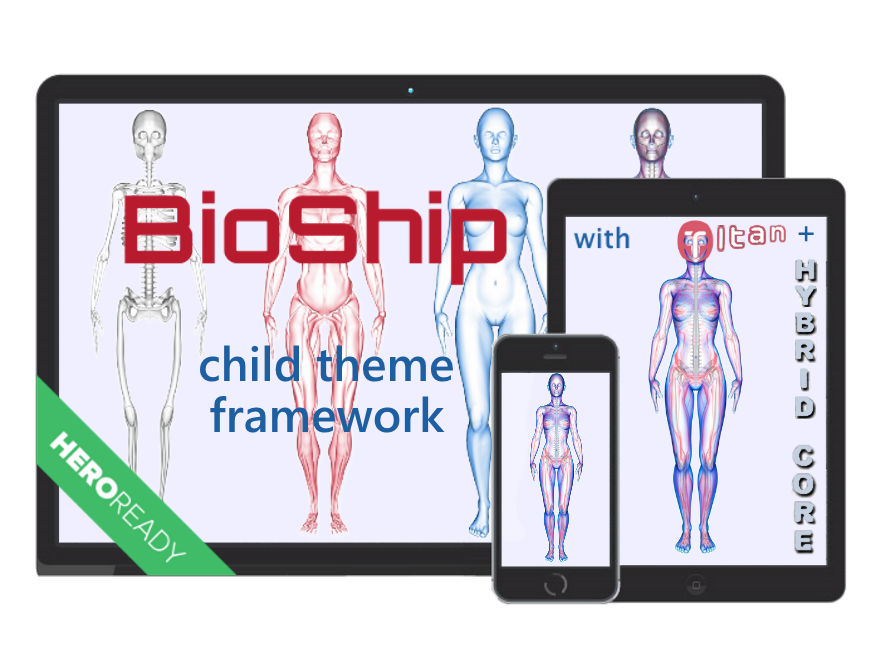 The majority of WordPress themes focus on design aspects to the detriment of better practice core theme coding. On the other hand, some theme frameworks provide far better core coding, but are often too bare and thus time-consuming to style to your design needs. To top it off, either of these approaches can be at the cost of having few or no theme options available for the end user, making it difficult (or expensive) to utilize their real potential.
BioShip seeks to solve this dilemma by striking a balance. It aims to provide a Theme Framework that is for:

Developers
-
a feature-rich and easily extendable theme environment,
with advanced, well structured and commented backend coding
Designers
-
a skeleton-style starter theme ready for your design needs,
with layered style selectors and extensive CSS support mechanisms
All Users
-
a ready-to-go theme for any writer or blogger or shop owner,
with easy to customize theme options and optimized default presets
...to boldly be the most flexible and advanced theme framework it can be. Engage! (no ummm, ahem, just ignore that last bit, moving on...)

Layered Design Approach
BioShip is built in three layers for simplicity of understanding and use:

Skeleton - Webpage Layout, Sidebars and Templates
Muscle - Powerful Extended Theme Functions and Supports
Skin - Easy Styling, Typography and Design Options
And also includes as optional extras for each layer:
Marrow - Hybrid Core and other Integrations already built-in
Tendons - Pluggable Functions, File and Template Hierarchies, Layout Hooks, Value Filters
Cosmetics - Extensive Cross-Browser and CSS3 Supports
This layered approach makes it easier to visualize the different layers of a website structure that ultimately make up the <BODY> of any Wordpress web page... and when it comes to implementing design and development - simple or complex - a little clarity goes a long way! Knowing where to find what layer for your design and development more intuitively in this way can save you hours of trudging through complex theme templates and functions just to tweak those little things.
Extensive Theme Options
To achieve all this, BioShip uses the Options Framework Options Framework OR Titan Framework OR the WordPress Customizer API to make everything modular wherever possible, allowing you to use what you want and dispense with what is unnecessary for your project with a few clicks, saving you time and hassle which you can devote to your design and styling.
Here's the menu of extensive options you can expect to find with BioShip (with all options now available via the Customizer panel also):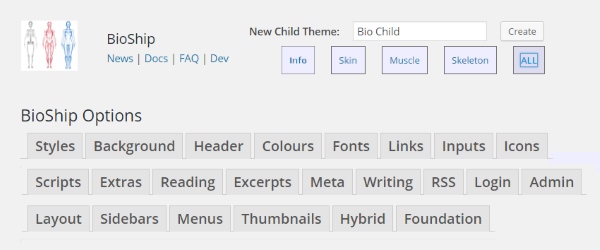 BioShip comes with preset streamlined options, so it is ready-to-go for skinning with your new theme design - in minutes not hours. Plus, the intention behind BioShip to continue to make it as flexible as is possible. This means if you need to delve deeper, you can customize just about anything via the in-built theme options, pluggable theme functions, overrideable files and templates, layout action hooks, layout position filters and a plethora of conditional value filters (with usage examples!)

Easy Child Themes and Live Previews
As if all that were not enough, BioShip goes a step beyond with the way it handles Child Themes and Theme Previews. First of all, BioShip is not partially - but fully Child Themeable, so you can easily replace any existing framework functions in the parent theme - or templates, stylesheets, javascripts and so forth - with your own custom version and have it used instead. This also means you can update the BioShip Framework as easily as a normal Parent Theme, without losing any of your design or customization work.
But more than this, BioShip has one-click Child Theme creation capability, making instantly creating Child Themes a breeze... And not just that, because it has extended compatibility integration with the Theme Test Drive plugin, you can preview and modify BioShip or any BioShip Child Theme live - without affecting your currently publicly viewed site.
This has great potential implications for designers and developers, allowing you to setup and customize a new Child Theme for the BioShip Framework without the need for a development sandbox, something traditionally difficult in WordPress. In fact, this feature was developed specifically for converting existing live site designs to the new framework with the least hassle, and now you can benefit from the same advantage.
AND, after much ado (read that as "lots of complex PHP and jQuery coding"), BioShip now fully supports use of the WordPress Customizer Live Preview callbacks for all it's options, so you can see the effect of any changes to your Theme Options in the Customizer instantly! While personally I prefer using the full-size Theme Options page than the Customizer panel, it is nice to have the Live Preview feature available for customizing certain style options. 🙂 See the installation instructions for simple step-by-step to quickly install BioShip, create a Child Theme, and Live Preview your new theme.